Throughout my career, I have always been driven to innovate and to achieve excellence. On that basis, I co-founded ADM Associates in 1979 to fulfill ever-growing needs for energy research using methods of engineering, economic, and behavioral analysis.
Through our research, we have had the privilege of advancing the goals of conserving natural resources and reducing greenhouse gas emissions. Over the course of 40 years, we have also developed relationships with many clients and other partners for which we are profoundly grateful.
Our team also takes this opportunity to renew our shared commitment to innovation and excellence. Our enduring, unchanging commitment to service is equaled by our commitment to continuous progress and innovation.
As we acknowledge our anniversary, we look forward to participating in the exciting changes that lie ahead in our field.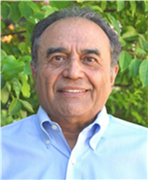 Taghi Alereza
CEO and Co-Founder